James River Day School is an independent, non-sectarian, co-ed, kindergarten through eighth grade day school.
Students
Our student body totals 269 students with class size averaging 14 students.
Faculty
There are 38 full- and part-time faculty, more than 55% of whom have advanced degrees.
Lower School
Beginning in kindergarten, children take classes taught by faculty specializing in art, library, music, physical education, technology, and world language. Third grade students play violin. Students have PE three times per week and recess twice per day. Each grade performs a play on stage. Students participate in multiple field trip and community service opportunities each year.
Middle School
Students in fifth through eighth grades have a faculty advisor who stays with them for four years. They have PE every day and world language every other day. Middle school students have two periods of English per day, plus science, math, history, study hall, art, technology, orchestra, band, chorus, drama, character development, and sports.
Whole School
Please read about our curriculum, Cardinal Buddies, field trips, community service, and other highlights on the other pages of our website.
School Day
8:15 a.m. - 2:45p.m. (K-2) with lunch at 11:20 a.m.
8:15 a.m. - 2:55 p.m. (3-4) with lunch at 11:55 a.m.
8:15 a.m. - 3:15 p.m. (5-8) with lunch at 12:35 p.m.
High School Credits
Students have the opportunity to earn high school credits in Algebra I and II, Earth Science, French I, and Spanish I and II.
Character Development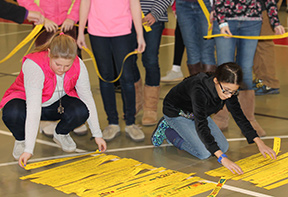 Students and teachers live by the six pillars of Character Counts: trustworthiness, respect, responsibility, fairness, caring, and citizenship. Middle school students also adhere to an honor code.
Athletics
Our athletic programs provide opportunities for all students in grades 5-8 to be part of a team. Students at this level have a wide range of abilities that will change as they grow; we endeavor to provide a program that is inclusive and developmentally appropriate.
Students have a choice of sports in each of three seasons.
Fall Season: Soccer, Cross Country, and Girls' Volleyball
Winter Season: Boys' Basketball and Girls' Basketball
Spring Season: Boys' Lacrosse and Girls' Lacrosse
Library
A warm and welcoming space, our library has over 12,400 volumes and 10 research computers. Known as the Taylor Media Center, it is gathering place, a study/research space, and a place where young adventurers can expand their imaginations through the written word.
Families
Our school community represents fifteen zip codes including: Amherst, Appomattox, Bedford, Big Island, Concord, Evington, Forest, Goode, Lynchburg, Madison Heights, and Rustburg.
Bus Service
Daily bus transportation is available along Route 221 West with stops in Bedford, Goode, and Forest.
Campus
Our campus spreads over 12 acres and has 55,732 square feet of facilities including a 13,000 square foot field house. Students utilize the library, technology lab, science lab, art studio, pottery studio, two music rooms, three world language classrooms, field house, athletic field, playground, nature trail, outdoor classroom, and full-size greenhouse.
Accreditation & Memberships
The Virginia Association of Independent Schools
has accredited James River Day School since 1979. James River is a member of the Virginia Council for Private Education, the Council for Advancement and Support of
Education, the National Association of Independent Schools and the Council for Spiritual and Ethical
Education.
History
James River Day School was founded in 1971 by a group of citizens whose goal was to create a nonsectarian,
educational program offering small, self‐contained classes for grades 1‐5. An existing structure on Boonsboro Road was renovated to provide classroom facilities. The school increased its offerings in 1973 by opening a kindergarten. In the fall of 1996, the school expanded to include sixth grade. In 1997, the Taylor Media Center was completed, along with science and computer labs, five new classrooms, and teacher offices. In the same year, the campus was reconfigured to provide a regulation soccer/lacrosse field, improved playgrounds, and expanded parking facilities. In the fall of 1997, JRDS added a seventh grade class. Eighth grade courses were added in the fall of 1998. In 1999, the 13,000 square foot Carrington Field House was completed. In 2000, the B.F. Dodson Family Laboratory Greenhouse was added, as were the Robins Lecture Hall and the Schenkel Science Exhibit Hall. During 2004 and 2005, twelve classrooms were renovated, and a multipurpose cafeteria was added. Over time, land purchases have increased the campus size to twelve acres.
Memberships
James River Day School is a member of the Virginia Council for Private Education (VCPE), National Association of Independent Schools (NAIS), the Positive Coaching Alliance (PCA), and The Center for Spiritual and Ethical Education. (See logos at bottom of the page for links to these organizations.)